OUR
BOAT
Designed for speed, versatility comfort and safety, the Wairaurahiri Jet is a custom built Alloy jet boat with a twin Lexus V8s, 2 x 212 Hamilton Jet units.
Built by Mackraft
Engine: Twin Lexus V8 - 2 x 212 Hamilton Units
Our boat is the only boat operating on the Wairaurahiri River that has twin engines giving our boat a 200% safety and has been custom built to handle the rugged conditions of this remote adventure
Annual audits by Maritime New Zealand
Only boat operating on the Wairaurahiri that is a Qualmarked endorsed visitor activity
Gold environment endorsement by QualMark. Only Jet boat company in NZ to have achieved this high standard
Our driver Johan has over 3000's of hours of jet boating the Wairaurahiri River
Wjet undergoes regular professional maintenance and servicing along with our own strict maintenance schedule
Heated hand rails
On board commentary
our
team
Johan Groters has completed thousands of hours of jet boating in the Wairaurahiri River and has been operating commercially since 1996 with many more years recreational experience in the area.
Johan and Joyce have an intimate knowledge of the Wairaurahiri Region of New Zealand, a love of the outdoors and a keen interest in protecting the environment.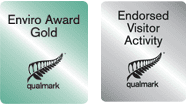 AWARDS AND ASSOCIATIONS
Joyce Awarded QSM for conservation 2019
Highly Commended Business section of Southland Environment Awards 2008
Winners of the Environmental Achievers at Southland Environment awards 2010
Sustainable tourism
Department of Conservation Concession holder
Trustee of the Tuatapere Hump Ridge Track Charitable trust.
Administrator of the South West Endangered Species Trust.
Tuatapere Promotions, members
Western Southland area promotion.
Member Commercial Jet Boat Association
Member T.I.A -Tourism Industry Association
2012 Fiordland Tourism award winners  Personality of the Year
Destination Fiordland Personalities of the year 2012
Destination Fiordland and Venture Southland, member.
Running our own Stoat rat trapping project since 2006