NEW ZEALAND'S ULTIMATE ECO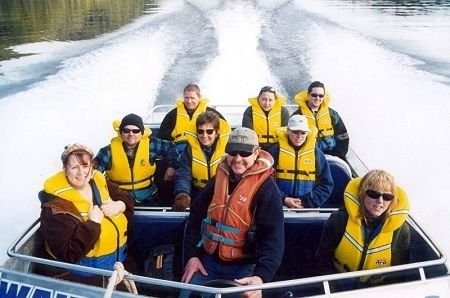 Join us on an exhilerating 94km jet boat ride to the sea and back through the heart of the beautiful Fiordland National Park. Travel across the pristine Lake Hauroko and down to the rugged southern coast via the wild Wairaurahiri River.
ABOUT US
Wairaurahiri Jet was born of a passion for this unique region – together Johan and Joyce have won several awards for community and conservation efforts and are actively involved in community organisations. 
COVID-19 NOTICE
The team at Wairaurahiri Jet is fully vaccinated.
Keen to get out there? Not sure what type of adventure you want to take?  We have various adventure packages to suit your jet boating needs. Ranging from our ever popular All-Day Adventure to our conservational Trip and Trap tours we have something for everyone.  Fill in our Booking Request form and one of our team will be in touch to organise your ultimate eco jet boat tour.
Wairaurahiri Jet is locally owned and operated by Joyce Kolk and Johan Groters. Johan and Joyce pride themselves on their vast knowledge of the Wairaurahiri Region of New Zealand.  
Locals through and through.
We are committed to operating with minimal impact on the environment to keep New Zealand beautiful and pristine. 
Read more about our conservation initatives.
Enjoy a breath-taking Jet Boat ride down the Wairaurahiri River.
Lake Hauroko Tours also offers you the opportunity to experience the majestic scenery and raw beauty of the unspoiled Lake Hauroko.
Enjoy Cafe dining at the historic Clifden Suspension Bridge, set with an unique back drop of the historic Clifden Suspension Bridge.
Mark T
Awesome place and worth every dollar
Awesome place and worth every dollar, incredible scenery and staff are awesome. Did it last Friday and enjoyed every minute.
FRAN, Sept22
Had a fantastic day we had on Saturday. Kevin was a very friendly, competent and skilled driver, host and cook! The trip across the lake and on the river was excellent.
We all enjoyed walking the tracks up to the different huts, and the lunch Kevin prepared and cooked for us was delicious and of great variety considering it was all packed
into the boat! Both adults and kids were thrilled and enjoyed themselves a lot. I'm pretty sure all of the kids on board hope they have a job like Kevin's when they are older 😂
Tracy
One of the best jet boat rides
My husband and I did this trip last weekend. One of the best jet boat rides we have ever done and we have done a few. Beautiful scenery with a fantastic BBQ for lunch. Our driver and guide Kevin was great with his knowledge and stories. Highly recommend this experience.
A great trip on the boat down the river
Hi Joyce Johan Kevin
A great trip on the boat down the river . You boys did a great job and it was well worth the it . I will recommend it to people I talk to.
Keep up the good work with the stoats.
Regards Hamish and Robyn
What a fabulous day
Hi Joyce Johan and Kevin
Everyone in our group on Sunday just wanted to say what a fabulous day we had. Even the rough lake was exciting. It is an awesome day out and an amazing river and definitely some skill needed to drive the boat. Thanks Kevin.
Thanks again and will definitely recommend your business
Maori and European history
We had an awesome day with Johan and highly recommend the Wairaurahiri Jet day trip. We thoroughly enjoyed the exhilarating jetboat ride, and as Johan is such an experienced skipper we felt safe even when there didn't seem to be much water under the boat. Johan was generously sharing his vast knowledge of the area with us, including flora, fauna, Maori and European history, conservation, and more than one funny anecdote. The BBQ lunch was superbly cooked and lovingly presented, with proper plates, cutlery and glasses, so no plastic waste. It has been a perfect day. In hindsight I wish we had opted to stay the night at Waitutu Lodge, what would have allowed us to spend more time at the mouth of the river. Thank you Johan and Joyce for great pre-trip communication and an unforgettable journey.
On Thursday 2nd Nov we booked on your shuttle/boat transport service thru Trips & Tramps to allow us to walk the Dusky Track. Johan asked if we would report back on track conditions.
The track seemed in pretty good condition overall to be honest. There were a few spots with some tree fall that had to be walked around but that is to be expected, none were really bad and each posed only a short delay to navigate.
From memory the first two days and the final day had the most (maybe 10 on each section between Hauroko Hut and Halfway Hut and day two to Lake Roe Hut). There were also a few on the other sections, but certainly not common. The track certainly wasn't overgrown with vegetation but also obviously isn't maintained to the same standard as a more heavily used track close to a road end. Its condition/maintenance is about what we expected. Track marking was good. You had to keep an eye on the direction they led you as markers were well spaced without seeing multiple from any one spot. To be honest it was nice to have to keep your wits about you to pick up the track.
This was probably most needed around tree falls and mud obstacles as multiple routes seem to have been taken around these. Generally the track continued in the same direction as an obstacle was encountered. Most of the track was pretty muddy in places, but it looked like this was the case all the time! We actually only went up to our knees in mud once. By carefully stepping on fallen branches or dryer spots you can bypass the worst of the mud without too much trouble. All the bridges were in good condition (and very much appreciated) and we didn't end up getting our feet wet at all while crossing any unbridged creeks.
All huts were clean and tidy with adequate wood supply. We went down to Supper Cove as well. The section of track past the big ladder on this section was that good it was bikeable! I must admit this did make a pleasant change. I also take my hat off to those involved with the track and drain building on that section in the early part of the 1900's. They certainly made a good job with some benching of bluffs and  track side drains still clearly evident. Made an effort to use the low tide route to Supper Cove, but this wasn't really worth the effort (early start to catch low tide). Notes in hut books talked about a rough high tide route. It is really no worse than the rest of the track! All in all a fantastic track, in a stunning environment, that offers a real sense of achievement in walking.  Thanks for your great service, we both really appreciated it and the tramp is one to certainly remember.
Rona and Martin
Thrills of the boat ride
Hi Johan and Joyce
Just want to say thank you for giving us a great day out yesterday. Everyone thoroughly enjoyed the spectacular scenery, the thrills of the boat ride, the excellent commentary, all the side trips we did off the boat and the very nice lunch. You worked really well as a team and made it a memorable day for all of us.
Thank you for the Dusky package.
Very much Value plus especially the boat trip up lake Hauroko with Johan. A real character.
I called at the Caswell street depot to say thanks but no one around.
Pete and I went through in 7 days, extra day at loch maree hut due to torrential rain so excluded the side trip to Supper Cove as we were under a time frame for flights.
The decent down to loch maree is probably the hardest very steep, There was extensive windfall on the track up to Kintail hut. DOC had cleared the track down from centre pass but the last day out from upper Spey hut was slow due to more windfall. Doc said 4hrs we took 5.2hrs otherwise we were within DOC times.
Recommend long gaiters a hiking pole to test bog depth small water bottle as there is lots of water on track and fire starters as the cut logs were very green and wet.
Thanks again for you patience as our trip numbers went from 7 to 2😀 resulting in major rearranging and I have no hesitation in referring your company for anyone doing the Dusky.
Cheers John
Amazing, unforgettable experience
Best jetboat trip ever in New Zealand and best tour guide in Johan. What amazing local knowledge and stories he shares with regard to Lake Hauroko, the Wairarahiri River and the Waitutu forest block. And the venison BBQ lunch at Waitutu Lodge was just delicious. Thanks so much Johan for an unforgettable experience.
Lake Hauroko Tour – Thanks Guys!
Thanks guys,
We had a great time and the weather was actually alright for us most days. We were generally right on time with the recommended DOC times, but on the last day from Upper Spey Hut to the road end it took us 7.5 hours total, including lunch break, around 6 hours of walking due to significant tree fall. This is signposted at 4.5 hours. Hopefully DOC will fix this soon, they seem aware of it from the intentions book entries.
Cheers,
Florian, Andy and Jasper.
A MUST on your list – Exceptional area in our country
This was a stunning day for us. We drove to the Hauroko Lake and were greeted by Johan. We lucked in with the weather and our driver. Johan is very experienced with his boat skills and his knowledge of the region- we learned a lot about the river and the environment. We stopped a few times to walk in the bush and what an experience that was- I was amazed by the mosses and the trees in the un-milled area.
Out to the coast and a great bbq lunch provided. I cannot recommend this trip enough.
Exhilarating, scenic lake, mountain and river day trip deep into Southland's extra special natural, beech forest.
Awesome day trip in the middle of winter with Wairaurahiri Jet – fantastic communication with Joyce months ahead and then Johan delivered the goods for our group of 10 on Monday 5th July.
A very well organised and informative trip from Lake Hauroko , down NZ steepest river to the Southland Coast line near Waitutu Forest Lodge ( our fabulous lunch stop). Johan was entertaining, knowledgeable and very personable and a good shot because the venison steaks were delicious! Our bush walks were a nice stretch for the legs and also full of information about the history, fauna, wildlife. Johan and Joyce's trapping program to eradicate the introduced species that prey on NZ's native birds, flora & fauna is a credit to their environmental values.
Awesome
Johan is a national treasure. Awesome trip from start to finish. Informative. Funny. Scenic. Well organized. Stunning part of the country to see and learn more about. Just do it. You won't be disappointed. Awesome in every way
An unforgettable experience
Johan, Joyce and Kevin provide an exceptional experience in a unique part of New Zealand. We had been picked up by Johan in the Jetboat in Dec 2020 from the bottom of the Wairaurahiri after the Hump Ridge and decided we had to go back to this beautiful part of the world. So, just recently Kevin picked us up from the other end of Lake Hauroko on their water taxi outboard after completing the Dusky Tramp. Not only is the scenery out of this world but the team provide so much local knowledge and humour along the way. We couldn't recommend this experience more to anyone in this part of New Zealand.
Highly recommended
Had an awesome day with Johan.  Great company and BBQ lunch.  Highly recommend it to anyone who wants to see some of New Zealand's wilderness.
amazing day with stunning views
Thank you again for an amazing day with stunning views, nerve racking action and perfect BBQ.  We really love the way you explain nature around the lake and just how you are.  We will definitely be in contact in the future for another ride or fishing tour. Thank you.
like being in a marketing movie of NZ
So pleased we made the journey to experience this trip – we were in awe.  It was like being in a marketing movie of NZ.  Won't say too much as you need to make the effort to experience it for yourself.  Johan was an incredible driver and extremely knowledgeable.
A fantastic day trip, definitely worth it
The trip was fantastic.  Johan is very experienced and you feel safe with him in this fast jet.  Wonderful to sail from the lake over this beautiful river through a beautiful untouched area to the sea.  A fantastic day trip, definitely worth it.
passion for conservation of this magnificent area
Just wanted to thank you for the wonderful trip we had recently with Johan.  We enjoyed the day so much, full admiration for your driving skills Johan and your passion for conservation of this magnificent area.  Best of luck to you both.