NEW ZEALAND'S ULTIMATE ECO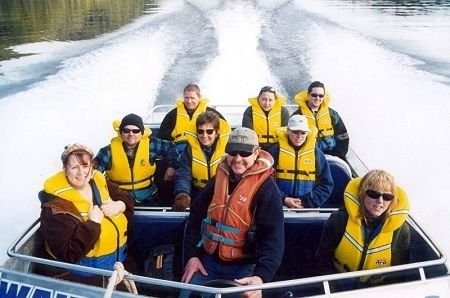 Join us on an exhilerating 94km jet boat ride to the sea and back through the heart of the beautiful Fiordland National Park. Travel across the pristine Lake Hauroko and down to the rugged southern coast via the wild Wairaurahiri River.
ABOUT US
Wairaurahiri Jet was born of a passion for this unique region – together Johan and Joyce have won several awards for community and conservation efforts and are actively involved in community organisations. 
COVID-19 NOTICE
The team at Wairaurahiri Jet is fully vaccinated and encourages all our customers to present their My Vaccine Pass for the protection of everyone.
Keen to get out there? Not sure what type of adventure you want to take?  We have various adventure packages to suit your jet boating needs. Ranging from our ever popular All-Day Adventure to our conservational Trip and Trap tours we have something for everyone.  Fill in our Booking Request form and one of our team will be in touch to organise your ultimate eco jet boat tour.
Wairaurahiri Jet is locally owned and operated by Joyce Kolk and Johan Groters. Johan and Joyce pride themselves on their vast knowledge of the Wairaurahiri Region of New Zealand.  
Locals through and through.
We are committed to operating with minimal impact on the environment to keep New Zealand beautiful and pristine. 
Read more about our conservation initatives.
Enjoy a breath-taking Jet Boat ride down the Waiau River winding through the Waiau Valley from Lake Manapouri to the sea.
Lake Hauroko Tours also offers you the opportunity to experience the majestic scenery and raw beauty of the unspoiled Lake Hauroko.
Enjoy Cafe dining at the historic Clifden Suspension Bridge, set with an unique back drop of the historic Clifden Suspension Bridge.
An unforgettable experience
Johan, Joyce and Kevin provide an exceptional experience in a unique part of New Zealand. We had been picked up by Johan in the Jetboat in Dec 2020 from the bottom of the Wairaurahiri after the Hump Ridge and decided we had to go back to this beautiful part of the world. So, just recently Kevin picked us up from the other end of Lake Hauroko on their water taxi outboard after completing the Dusky Tramp. Not only is the scenery out of this world but the team provide so much local knowledge and humour along the way. We couldn't recommend this experience more to anyone in this part of New Zealand.
Awesome
Johan is a national treasure. Awesome trip from start to finish. Informative. Funny. Scenic. Well organized. Stunning part of the country to see and learn more about. Just do it. You won't be disappointed. Awesome in every way
Exhilarating, scenic lake, mountain and river day trip deep into Southland's extra special natural, beech forest.
Awesome day trip in the middle of winter with Wairaurahiri Jet – fantastic communication with Joyce months ahead and then Johan delivered the goods for our group of 10 on Monday 5th July.
A very well organised and informative trip from Lake Hauroko , down NZ steepest river to the Southland Coast line near Waitutu Forest Lodge ( our fabulous lunch stop). Johan was entertaining, knowledgeable and very personable and a good 'shot' because the venison steaks were delicious! Our bush walks were a nice stretch for the legs and also full of information about the history, fauna, wildlife. Johan and Joyce's trapping program to eradicate the introduced species that prey on NZ's native birds, flora & fauna is a credit to their environmental values.
A MUST on your list-Exceptional area in our country
This was a stunning day for us. We drove to the Hauroko Lake and were greeted by Johan. We lucked in with the weather and our driver. Johan is very experienced with his boat skills and his knowledge of the region- we learned a lot about the river and the environment. We stopped a few times to walk in the bush and what an experience that was- I was amazed by the mosses and the trees in the un-milled area.
Out to the coast and a great bbq lunch provided. I cannot recommend this trip enough.
Amazing, unforgettable experience
Best jetboat trip ever in New Zealand and best tour guide in Johan. What amazing local knowledge and stories he shares with regard to Lake Hauroko, the Wairarahiri River and the Waitutu forest block. And the venison BBQ lunch at Waitutu Lodge was just delicious. Thanks so much Johan for an unforgettable experience.
passion for conservation of this magnificent area
Just wanted to thank you for the wonderful trip we had recently with Johan.  We enjoyed the day so much, full admiration for your driving skills Johan and your passion for conservation of this magnificent area.  Best of luck to you both.
A fantastic day trip, definitely worth it
The trip was fantastic.  Johan is very experienced and you feel safe with him in this fast jet.  Wonderful to sail from the lake over this beautiful river through a beautiful untouched area to the sea.  A fantastic day trip, definitely worth it.
like being in a marketing movie of NZ
So pleased we made the journey to experience this trip – we were in awe.  It was like being in a marketing movie of NZ.  Won't say too much as you need to make the effort to experience it for yourself.  Johan was an incredible driver and extremely knowledgeable.
amazing day with stunning views
Thank you again for an amazing day with stunning views, nerve racking action and perfect BBQ.  We really love the way you explain nature around the lake and just how you are.  We will definitely be in contact in the future for another ride or fishing tour. Thank you.
Highly recommended
Had an awesome day with Johan.  Great company and BBQ lunch.  Highly recommend it to anyone who wants to see some of New Zealand's wilderness.